ferdirank
rank10. Portuguese Stone House
This weird house, located in Fafe, Portugal, is made of limestone rock. The artist who put it together is
unknown. It has a front door, roof, and windows. Good enough for Fred Flintstone. (
Google Map
)
rank9. Narrow House, Greenwich Village
This unique and very narrow house at 75 1/2 Bedford St., Greenwich Village, NYC is also the oldest house in Greenwich Village and possibly the narrowest in New York City. Located at , 75 1/2 Bedford Street, the narrow house was built in 1873 over a former carriage entrance way, and measures 9.5 feet wide and 30 feet deep. Former residents of the house include poet Edna St Vincent Millay, actor Cary Grant, and anthropologist Margaret Mead. The house has sold within the last couple of years for over $2 million (USD). (
Google Map
)
rank8. Hole N The Rock
The Hole N The Rock was carved out of a huge rock in Utah's Canyonlands area. This unique cave home is 5,000 square feet and offers tours. Built by Albert and Gladys Christensen over a span of 12 years, it offers a fireplace, 14 rooms, and has many of the Christensen's original furniture, doll collection, and decorations. It is said that Albert removed 50,000 cubic feet of sandstone to build it. The couple, having passed away some time ago, are buried next to the home. (
Google Map
)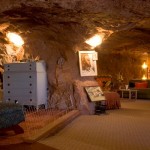 rank7. Toilet House
The late Sim Jae-Duck, founder of the World Toilet Association, built this weird house in the shape of a toilet, called Haewoojae ("a place where one can solve one's worries"). The $1 million dollar toilet home was built to spread awareness about the importance of toilet hygiene (a worthy endeavor). A generous donation of $50,000 to the WTA will get you a night in the house. After Sim passed away, his surviving family donated the building to Suwon City through an agreement to turn the house into a toilet culture museum. (
Google Map
)
rank6. Egg Home
24 year old Dai Haifei, an architect, couldn't afford to rent a house in Beijing thanks to the very expensive market. So he built his own house made in the shape of an egg. The egg home is 2 meters high, with solar panels, wheels, and sack bags for walls.
Read more about the egg house
.
rank5. Caveland
Caveland is built from a sand mine that was hollowed out so that the owner could turn the sand into glass. In the late 40s, a woman named Sue Morris bought the property and turned it into "Caveland", a concert venue/roller skating facility. Bob Seger, Ted Nugent, MC5, and Tina Turner all played there. Shut down in 1985, the place was turned into a home by Curt Sleeper and his family. The cave home is about 15,000 square feet, with three main chambers. Electricity comes from solar panels, and the fact that it's a cave means the home will stay cooler.
Read more about Caveland
. (
Google Map
)
rank4. Walking House
This entry into the list of weird houses was built on 6 hydraulic legs. Designed by N55, a collective of Danish artists, along with Massachusetts engineers, the 10 foot high walking house is solar powered and wind powered. It has a living room, kitchen, toilet, and bed. So don't worry about having your house in a flood zone – now the whole place can just walk away from it.
rank3. Haines Shoe House
Haines Shoe House was completed in 1949 by Mahlon Haines, also known as the "Shoe Wizard". Located on Shoe House Road in Hellam, Pennsylvania, near route 30, the house is modeled after a high-topped work shoe. The interior contains 3 bedrooms, 2 bathrooms, a living room area, and a kitchen. Haines had owned about 40 shoe stores in the area, and wanted an interesting way to market his business. He allowed elderly couples and newlyweds to stay in the shoe house from time to time. (
Google Map
)
rank2. Simpsons House
The real-life replica of the house from the Simpsons was the brainchild of Fox and Pepsi. It was given away to contest winner Barbara Howard, a 63-year-old retired factory worker from Richmond, Ky. The 2200 square foot home is located at 712 Red Bark Lane in Henderson, Nevada. Unfortunately, the house has since been remodeled and now looks just like all the other cookie cutter suburban homes surrounding it. (
Google Map
)
rank1. Lego House
In Surrey, England, a TV presenter named James May built a full sized house made from Lego blocks. This unique home featured a toilet, shower, and lights – and was made from over 3 million little plastic Legos. The house was 20 feet high and spanned 2 stories. Unfortunately the Lego house was pulled down. However, James May did spend some time living in it.
source :
http://oddculture.com