10. Vernon Gholston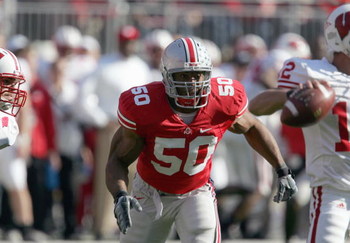 Gholston was an absolute beast his final two years in 2006 and 2007.
In 2007 he set the single-season sack record with 14, giving him 22.5 for his career, fifth most. He also had 15.5 tackles for loss, totaling 113 yards lost, second all-time in a season.
He added 15 tackles for loss and 8.5 sacks in 2006.
9. James Laurinaitis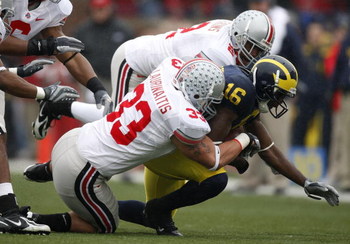 Laurinaitis had help from Gohlston, but replaced A.J. Hawk with great success.
He would up with 366 tackles, ranking seventh all-time while leading the Buckeyes to two straight BCS championship games and three BCS bowls.
Laurinaitis led the team in tackles all three years and was an all-american those three years.
8. Santonio Holmes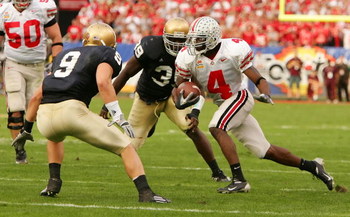 Holmes concluded his career as the fifth all-time leading receiver in program history with 2,295 yards and is third with 25 touchdowns.
Had he stuck around for his senior season, he would have shattered both all-time records.
He also had to spend one of his three seasons with rotating quarterbacks in 2004.
The Super Bowl MVP is having the greatest pro career of all players this decade.
7: A.J. Hawk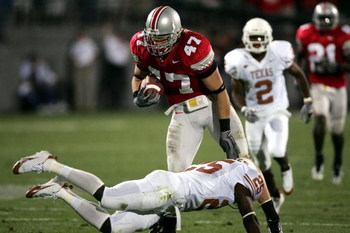 Hawk led the team in tackles from 2003-2005 and was a two-time all-american.
His 394 career tackles ranks fifth all-time, ahead of professional great Pepper Johnson.
He also has 41 career tackles for loss, which puts him in the top 10.
6: Mike Nugent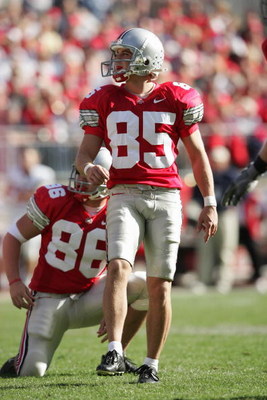 I know he is a kicker, but Nugent saved the Buckeyes several times in his career.
His most insane stat was going 8-for-9 in field goals over 50 yards for his career.
Nugent's .818 career field goal percentage is far away the best ever.
He also holds the career points scored record for all players with 356.
5: Michael Jenkins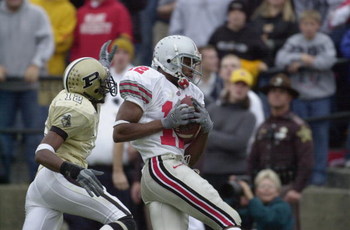 While not known for scoring touchdowns, Jenkins was known for making the big catch.
He caught key touchdowns in the Purdue and Illinois games in 2002. Without him, the Buckeyes might not have won the title.
Jenkins still holds the career receiving yardage record with 2,898.
4: Troy Smith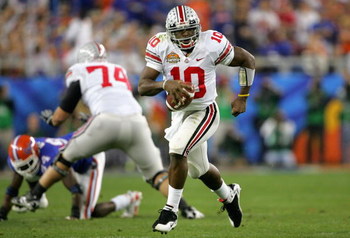 Smith won the lone Heisman Trophy in the decade for the Buckeyes, but it is hard to put him farther up the list.
Sure, he led Ohio State to a championship game appearance, but the Buckeyes made it the following year without him.
He is third all-time in total offense with 6,888 yards and second in completion percentage at 62.7%.
3: Beanie Wells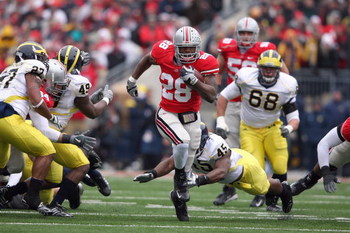 Wells ran for 3,382 yards, fourth all-time, despite only playing one full year.
He carried the offense to the championship game by running for 1,609 yards in 2007, including two of the top 10 single-game totals in school history.
His 93.9 yards per game in his career in second best and if it weren't for injuries and splitting time as a freshman, he would be clearly second alone to Archie Griffin.
2: Craig Krenzel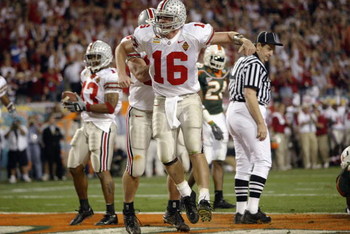 There are no stats to back this selection up, but none are needed.
He was the heart-and-soul of the 2002 championship team and came back the following year two win his second BCS bowl.
Krenzel wasn't the best quarterback, but he always made plays when the Buckeyes needed him too, especially in the Illinois game without Maurice Clarett.
1: Mike Doss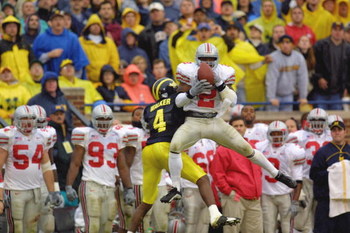 Doss was a three-time all-american and did whatever the team needed to do.




Speaking for making clutch plays, Doss made several of them on defense in the 2002 season.




As a defensive back, Doss led the team in tackles in 2000 and 2001 and came back his senior year to win a championship.




His 331 tackles and 31 tackles for loss are both 11th best all-time, despite being a safety.




Other candidates included Antonio Pittman, Ted Ginn Jr., Will Smith and Chris Gamble.

source : http://bleacherreport.com