Aston "Family Man" Barrett
The Rastafarian Jamaican sensation.
Along with brother Carlton "Carlie" Barrett on drums, Family Man was the rock-steady and ever-ready rhythm section for Bob Marley and The Wailers, along with Lee "Scratch" Perry's original Upsetters. Family Man helped forge the template for reggae with his booming, thunderous bass patterns and ever-so-tight turns. But more than just a bass player, Family Man also played a large part in arranging Marley's songs and co-produced a number of the late icon's albums. Family Man's weaving bass patterns are very much a part of the new wave of dancehall reggae that had found its way onto the charts as of late.
Stanley Clarke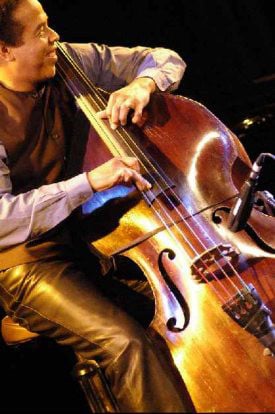 A ground-breaking member of the jazz fusion club.
The Philadelphia-born Clarke was at the epicenter of a new movement in the early 1970s, when the worlds of jazz and rock began to collide. Along with Chick Corea (keyboards), Al DiMeola (guitar) and Lenny White (drums), Clarke helped popularize a new form of music – jazz played in a rock style, or rock played in a jazz style – called fusion, in the group Return To Forever. Also a noted composer, Clarke cast a spell on bass players worldwide with the way he played his Alembic electric basses in an almost upright kind of style. Not limited to just the fusion world, Clarke has also added his touch to recordings by old-school jazz masters like Dexter Gordon, Horace Silver and Art Blakey.
"Bootsy Space Bass Solo"
Bootsy Collins
The outrageous, larger-than-life cartoon character.
Look past all the science fiction trappings, ignore all the garish costumes and forget about the humorous lyrics that dominate a large chunk of his solo work. Because deep inside the being of William "Bootsy" Collins lies the heart of possibly the funkiest man on Planet Earth. And a Rock-N-Roll Hall of Famer, to boot.
After finding James Brown too demanding of a taskmaster to suit his own tastes, the Cincinnati-born Bootsy left JB's band in the early 1970s and climbed on board another funky vessel – one piloted by the genius of George Clinton. As a member of Parliament-Funkadelic, Bootsy helped breathe life into some of the most driving, pumping, get-out-and-party songs of all time. Songs that have long since become a wellspring for today's generation of rappers to slice, dice and sample from.
Donald "Duck" Dunn
The backbone of Memphis soul.
In the late 1960s some of the most soulful music on the face of this earth was being produced in a little studio in Memphis, Tenn. Right at the center of all those soon to be classic tunes appearing on the Stax record label was Donald "Duck" Dunn.
Dunn's solid bass playing – jumping when needed, laid back when required and always with just the right feel – can be heard on everything from Albert King's "Born Under a Bad Sign," to Otis Redding's "Respect" to Sam & Dave's "Hold on, I'm Coming."
Born right in Memphis, Dunn's rise to bass-playing prominence began in ernest in 1965 when he joined what was soon to become Stax records' primary backing band – Booker T. & The M.G.'s.
That group had a ton of funky instrumentals themselves and wove soul, blues and jazz numbers into a groovy, almost psychedelic-looking tapestry.
Larry Graham
The father of the slap-and-pop.
Larry Graham may be responsible for teaching more suburban Americans how to dance than anyone else.
Playing in his mother's group during his formative years, Graham found himself one man short of a rhythm section – the group had no drummer.
But instead of letting that sink the ship, Graham simply invented a new technique. He discovered that slapping the strings of his bass with his thumb made a kind of "bass drum" sound, while popping the strings with his middle fingers made kind of a "snare drum" sound. And thus the slap-and-pop – and a whole new kind of dance groove - was born. Graham found a suitable home for this revolutionary sound in the middle of psychedelic San Francisco's leading soul band of the times, Sly & The Family Stone.
Jaco Pastorius Solo
James Jamerson
The original Funk Brother.
For a long time, James Jamerson was criminally deprived of the credit he deserved.
As a member of the ace session staff at Motown Records, Jamerson played bass on 30 tunes that went straight to number one on the pop charts. That's stuff that not even The Beatles can lay claim to. But until the early 1970s, studio musicians at Hitsville USA went un-credited, leaving Jamerson and his fellow Funk Brothers, "standing in the shadows."
But thankfully all that has changed and the late Jamerson is now a member of the Rock-N-Roll Hall of Fame and is widely regarded as one of the founding fathers of electric bass guitar.
Using a syncopated style that was anything but bass-by-the-numbers, the South Carolina native played on hundreds of releases from now-legendary performers like The Four Tops, Marvin Gaye, The Supremes, The Temptations and a score more.
Jerry "Fingers" Jemmott
A session player's session player, Fingers was maybe THE first-call studio bassist during the late 1960s and on into the 1970s.
Able to change styles like a chameleon on demand, Fingers worked with some of Atlantic Records' biggest stars during the day, including Aretha Franklin, Ray Charles and Wilson Pickett.
In the jazz realm, he nimbly backed up Lionel Hampton, Herbie Hancock and George Benson.
The blues were richer thanks to Fingers' appearances on cuts by the likes of Duane Allman, Otis Rush and Freddie King. One of the most famous and beloved songs in the history of the blues is B.B. King's "The Thrill is Gone" and that's Fingers on bass, steering and driving the King to Nirvana.
The Bronx-born Fingers is also the author of four books and numerous instructional DVDs on the art of laying down the ultimate groove.
Marcus Miller
The Grammy-winning, multi-instrumentalist.
Brooklyn's Marcus Miller is almost as renowned for his touch as a producer as he is for his touch on the five-string Fender bass.
As a producer, Miller has been responsible for helping to bring the work of superstars like Bob James, Chaka Khan, Wayne Shorter, David Sanborn and Miles Davis to life, earning him several Grammys for his efforts.
Miller is also a composer and when he was a member of miles Davis group in the late 1980s, penned the incredible "Tutu" for the famed trumpeter.
Clearly skilled at anything he picks up, Miller is classically trained as a clarinetist and also plays guitar, saxophone and keyboards.
But it's on the bass guitar that Miller causes fellow musicians to sit up and take notice. Building on Larry Graham's pop-and-slap method, Miller has added an aggressive, powerful attack that gives his sound a plastic kind of resiliency, jumping around like a metallic rubber band. Tuneful but tough.
Jaco Pastorius
The world's greatest bass player.
That's the way that Jaco Pastorius introduced himself to future Weather Report band member Joe Zainwul.
That's also the plain, unvarnished truth.
Jaco was the baddest of the bad. And he influenced all that came after him.
His story is the stuff of legends and is both uplifting and gut-wrenching at the same time.
Suffering from a lethal combination of mental illness and substance abuse, Jaco left this earth way too soon, beaten to death by a bouncer in front of a Florida nightclub at age 35.
As a member of the stellar fusion group Weather Report, Jaco took electric bass playing to a level it had never been. His use of harmonics and vibrato created a whole new style of bass playing. His solos could move from intricate, whisper-soft to louder-that-thunder, all within a couple of flicks of the wrist.
George Porter, Jr.
Spreading Crescent City funk all across the globe.
George Porter, Jr. is much more than just one of the founding fathers of funk.
He is also one of the truly great ambassadors of the city of New Orleans, the city he was born in.
As a member of The Meters, a group that came together in the mid-1960s, Porter helped take a base of soul, jazz, blues and Caribbean rhythms and melt them into a juicy gumbo known as funk. It was music that just made you move. And the key ingredient in that spicy dish was Porter's long, looping, greasy bass guitar. More than just keep the beat going, Porter helped make it OK for the bass to take over the reins and head down new trails. This helped sprout the seeds for a future generation of jam bands.
And it also made you want to get on the dance floor as soon as possible.
source : hubpages.com